My internship in Shenzhen with CRCC Asia
I had the pleasure of undertaking a CRCC Asia Internship Program during the Summer of 2014 in Shenzhen. I interned for a company that assisted businesses from the South American region with import/export opportunities. I had the opportunity to meet with clients, travel to Macau and Hong Kong on behalf of the company and was assigned my own personal project presenting trends and identifying opportunities within the coffee industry to senior colleagues. After a fantastic experience and having built an extensive network of connections, I was offered a job opportunity.
How I built my career in the blockchain industry
Due to my interest in China and having the desire to pursue a career in China, I completed my Masters in Chinese and Chinese Economy at Fudan University in 2016, which sparked my interest towards the development of innovative technologies in China such as blockchain and digital assets. In early 2018, I landed a golden job opportunity in Shanghai to build my career at Blockshine, one of the top blockchain companies in the world. Blockshine is a transnational, blockchain financial services company and solutions provider. Blockshine is dedicated to helping enterprises and institutions build a state of the art blockchain industrial ecosystem and provide customized technical solutions by establishing a compliant, new-generation financial infrastructure based on blockchain technologies. We believe that blockchain technology can build a more trustworthy, fair and intelligent social supply relationship and business operation model to help generations to come.
From intern to supervisor
After one year, I was promoted to Senior Manager and I currently manage an international team which caters to a portfolio of clients from all over the world. I am now also a supervisor for CRCC Asia interns! My most recent intern Ignatius Dunn (pictured with me to the left) was a quintessential example of someone who went above and beyond his role. He was professional, courteous, hard working and delivered results in a very short period of time. His role involved lead generation, representing the company at events, and marketing for the company. My role as supervisor was a delight with an outstanding intern and I was able to train and nurture him into a future rising star in the financial services industry.
My best advice to all of you is really make the most of your internship and build those connections! Work hard and enjoy!
Written by Daniel Bateman, Senior Manager at Blockshine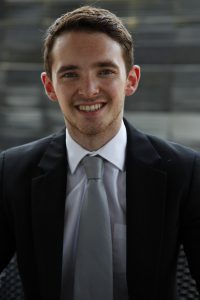 Interested in building a career in the blockchain industry? An internship abroad could be a great step towards achieving your goal!
BLOCKSHINE YOUTUBE CHANNEL | INTERN IN SHENZHEN | INTERNATIONAL FINANCE INTERNSHIPS