Easter, Thanksgiving, Halloween, Christmas – in the West a variety of festivals are celebrated throughout the year. For the people of Vietnam, there is no occasion more significant and more important than that of the Lunar New Year, commonly referred to as Tet Festival. Right now in Vietnam, there is no doubt that excitement is building for the arrival of Tet 2020 which is set for the 25th of January!
What is the Tet Festival? 
The word Tet is a shortened form of Tết Nguyên Đán, which is Sino-Vietnamese for "Feast of the First Morning of the First Day". It is celebrated on the first day, of the first month, of the Lunar calendar which is also the reason there is no fixed date for its celebration. Normally it occurs at the end of January or the beginning of February which is later than the Western celebration of New Year's Day. The five working days of Tet are a public holiday throughout Vietnam.

History
The emergence of Tet can be traced back to the Chinese domination of Vietnam in 111 BC. However, it would be wrong to say that the Tet Festival is the same as Chinese New Year. The Vietnamese people have taken the festival and adapted it into something that reflects their own culture and traditions. One key difference is the zodiac animals used to mark the year. Vietnam's calendar incorporates the Buffalo, Cat and Goat which differ from that of the Ox, Rabbit and Sheep included in the Chinese Lunar calendar.
How Tet is Celebrated Today
Throughout Southeast Asia, tradition is vitally important as it's believed that repeating them will bring good fortune. A week before Tet, one would see Vietnamese families busy thoroughly cleaning their houses, discarding anything that is broken or old and replacing them with new ones. It is considered bad luck to clean the house on the day of Tet, as it symbolizes 'sweeping away the luck'. This is also the time they decorate their places with all things red and yellow!
The day before Tet is usually the busiest. Pathways are full of people marveling at the New Year decorations in the high street and watching the firework displays during the night.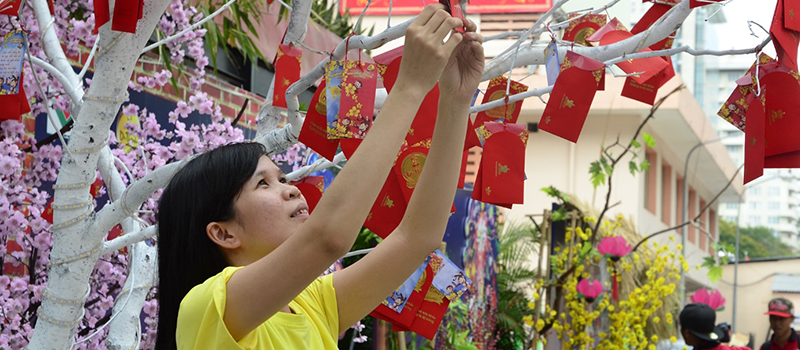 During the week-long festival people across Vietnam are expected to travel home, to their own provinces, in order to spend time with their loved ones. Loads of food is shared during the family gatherings, stories are told, and the kids receive red envelopes from the elders which contain Li Xi or Lucky Money! Very lucky indeed!
Celebrating Tet 2020:
Celebrating New Year in a country rich in culture and tradition evokes so many emotions – excitement overpowering the rest. Below are a few tips on how to celebrate Tet 2020 like a local.
Lucky Colors
Vietnamese people believe that the colors yellow and red bring fortune and luck. This explains why households are often decorated with Peach blossoms in Northern Vietnam and apricot blossoms in South Vietnam. To blend in seamlessly during Tet, we'd recommend wearing these colous. Women could also go on the extra mile of wearing a red or yellow Ao Dai that would guarantee their celebration of Tet like a true local!
Fruits of Fortune
Unsurprisingly, banquets and feasts are aplenty during Tet. An essential tradition is the preparation of the Five-Fruit Tray as without these, Tet would not be complete.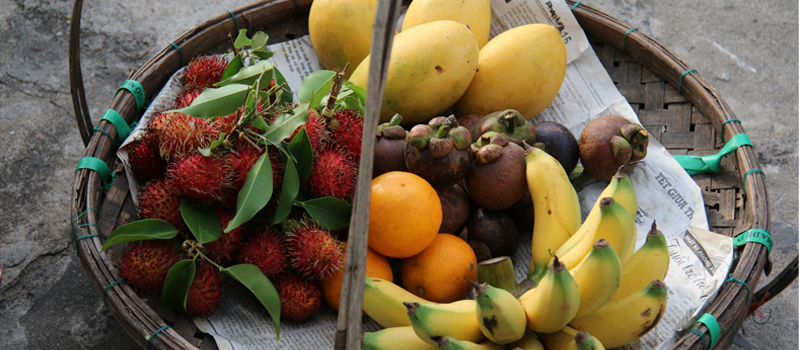 Every household has different ways of arranging their fruit trays. With regional differences in customs and weather, the fruits people use vary from banana, pomelo, peach mandarin and persimmon in the North; to custard apples, figs, coconuts, papayas and mangoes in the South. 
Traditional Rice Cake
Special dishes often seen at the table are Bánh Chưng in the North or Bánh Tét in the South – both of which are traditional cakes made of glutinous rice, pork and mung beans, but they differ in shape. Preparation for these are extensive as ingredients are wrapped tightly in banana leaves and are cooked overnight. Families often take turns cooking overnight but also utilise this time to catch up and share stories of the past Tet celebrations. 
*The rice cakes are eaten together with pickled onion to reduce greasiness
Common Greetings
Throughout Tet expect to hear "Cung Chúc Tân Xuân" (gracious wishes of the new spring) and "Chúc Mừng Năm Mới" (Happy New Year) quite frequently. Another popular greeting is Sống lâu trăm tuổi (long life of 100 years), although it is predominantly used by children to elders. Learning these phrases is an excellent way to show your understanding of the festival to locals, who will greatly appreciate the effort you've made to familiarise yourself with their culture.
Tet is a wonderful time to be in Vietnam, it showcases the country at it's most passionate and enthusiastic. If you're attending the festival we're sure you'll have an amazing time!  Cung Chúc Tân Xuân from the CRCC Asia family.