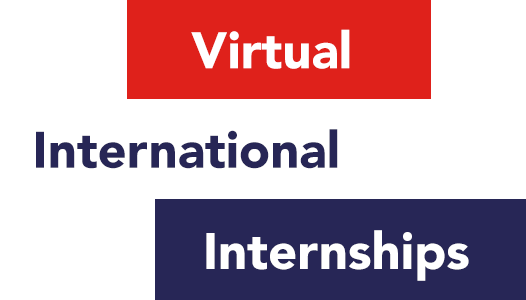 Virtual International Internships
Our partners at Virtual Internships offer an industry-leading remote internship program, which allows you to start your career on your own terms. You decide which career field you work in, you decide where you'd like to work, and you decide your work-life balance.
For more information on how it works & what's included, please visit our partners at Virtual Internships.
What's Included in the Virtual International Internship Program?
Guaranteed International Internship in your country of choice
Dedicated Career Coach
Access to CareerBridge – our Global Internship Curriculum
Weekly Group Discussions or Business Webinars
Full End of Program Report
Benefits of Virtual International Internships
Global Connections
Networking is crucial to future employment outcomes, and if you are looking to start your global career, building a dynamic network of international contacts should be your first step. Remote internships allow you to curate a global network from the comfort of your own home.
Remote Working Skills
Over 70% of today's workforce works at least 1 day a week remotely. Completing an online internship will give you direct experience and increase your skills in written communication and problem-solving as well as mastering software and platforms relevant to your career field.
Cross-cultural Working Knowledge
Unlike other remote internships, CRCC Asia's program allows you to develop your professional skills and gain multicultural competency in a country of your choosing. Throughout your internship you will be exposed to collectivist work culture's, vertical hierarchies, scheduling across time zones, and managing multiple native languages and jargon.
Break Into Your Dream Career Field
Today's job market is more competitive than ever before, making it tough for people to enter their career field of choice. CRCC Asia removes this obstacle by guaranteeing you an internship in a career field of your choice. Helping you get the working experience you need to land your dream job.
Accessibility
Online opportunities reduce the financial obstacle that studying abroad can present; but still retain the career and global mobility benefits gained from work experience in a different culture.
Stand Out to Future Employers
Adding international work experience to your existing resume/CV allows you to showcase the skills and experiences you gained during your remote internship with an international company. Not to mention, the high levels of self-discipline and time-management required to perform a remote internship are highly sought after by employers all around the world!
Unpacking the Program Inclusions of the Virtual Internship
1, 2, 3 or 4 month Guaranteed Online Internship Placement
Through our Virtual International Internship program, students are able to select a 10, 20, or 30 hour work week. All Internships have a requirement of 120 hours of work minimum to meet most academic requirements for credit.
Academic Credit
Our programs have been designed to fulfill the requirements for our School of Record, Saint Peter's University, which offers students the ability to earn 3, 6, or 9 transfer credits from their Virtual International Internship! We also work with individual students & their universities to determine the optimal course for a student to earn academic credit for their internship, and can support with confirmation letters and supervisor evaluations.
Project-Based Work
CRCC Asia requires all of our host companies to provide clear project-based work descriptions which plan far beyond the first week of work. This is to ensure that an intern's work plan is clear and engaging. Through the completion of these projects and work, interns will have tremendous experience to add to their existing resume/CV, as well as gaining a network of professionals all around the world!
Creating a Sense of Community Remotely
Participating in a remote internship can present the risk of feeling isolated or disconnected, which is why CRCC Asia has developed multiple touchpoints to connect remote interns with one another and build a strong sense of community. These opportunities span from the first day the intern accepts their program offer, to well after their internship program is complete!
Weekly Google Hangouts
All CRCC Asia interns will have access to join our weekly Google Hangouts discussion with our Program Experience Managers. During these chats, our team opens up the floor to questions from the interns, while also asking guided group discussion questions. These Hangouts allow students to feel connected to their fellow remote interns, and build a sense of community with other professionals.
1.Tuesday at 5:00 PM EST – 6:00 PM EST
2. Wednesday at 5:00 PM GMT – 6:00 PM GMT
Bi-weekly Business Webinars
All CRCC Asia interns (current and alumni) will receive an invitation to join our live bi-weekly webinar events. Topics for these presentations and discussions can include: Bringing confidence to the workplace, beginning a global career, creating supportive goals, international networking skills, and much more! Webinars will draw on expertise and guidance from our external guest speakers and career professionals!
Webinars will be held on Wednesdays at 12:00 PM EST unless otherwise noted and begin June 10th, 2020.
360° Professional Development Support
Without support through the full remote internship process, there is a risk of an intern losing engagement and opportunities for building a key network. Therefore, CRCC Asia has added additional support for professional development and for planning your future career.
Assigned Internship Coach
Each CRCC Asia intern will be assigned a designated Internship Coach, who will guide the intern through the admissions, placement, and virtual internship process. At the close of each week, students and their host companies will receive a check-in email from our team to hear about project completion, individual feedback, and provide support if needed. These check-ins will allow CRCC Asia to keep both interns and host companies actively engaged and feel supported by their Internship Coach should any concerns arise.
Along with the weekly check-ins, the Internship Coach will schedule two formal calls with the intern (mid-internship and end of internship). The end of internship call will allow the intern to reflect on their entire internship experience as well as develop a Global Career Management Plan.
Supported Supervisors and Host Companies
CRCC Asia strives to greatly support all of our interns and host company supervisors through the entire internship process. We are able to provide guides and training to supervisors to assist them with managing remote international interns.
During their time hosting an intern, CRCC Asia will ensure to actively check-in with host companies and supervisors, and provide essential support in the event of any issues. Upon the conclusion of the internship, all supervisors will be given the opportunity to complete a supervisor evaluation for their intern.
Employability and International Focused Guides
Access to CareerBridge
Our entire Virtual International Internship is supported by our custom-developed global internship curriculum, CareerBridge. This curriculum seeks to assist interns in navigating a better understanding of the culture in which they will be working, as well as analyze key professional skills needed in any professional workplace scenarios. The CareerBridge modules help prepare interns with resume/CV support, interview preparation, communication development, project management, networking, and much more!