"One of the best things I have ever done."
Tom Fernández graduated from the University of West of England (UWE) having completed his Civil and Environmental Engineering degree.  He then decided to undertake a 2-month internship with CRCC Asia having visited Asia earlier in the year.
Tom was placed by CRCC Asia in a small tech start-up with just 4 people in the team. Tom explained that the opportunity opened up the whole world of start-ups and entrepreneurship to him.  He reminisced working alongside the founder day-to-day and asking him about how it is starting up your own company.
"I was given a lot of responsibility from the get-go.  It was my first time doing work experience, having graduated in Engineering but knowing I wanted to change into business.  It was the perfect way to get some exposure."
When asked whether international work experience has helped him, Tom explained that after his internship, he went to a Business School in Madrid:
"The school was focused on entrepreneurship and innovation, therefore having worked in a start-up really helped and strengthened my application."
Tom added, that the most interesting thing that he gets asked during interviews is about his internship experience.  He explained that the interviewers are always interested in someone that has worked on the other side of the world.
Tom's highlight was all the friends he made.  He still keeps in touch with them 2 years on and considers them to be good friends.
Tom' advice for future interns:
"Go for it! It is a unique experience and if I wanted to do an internship abroad without the support from CRCC Asia then I would have had to deal with interviews, accommodation and visas… And that's where the program is great."
After the program, Tom worked for an Internet company for a year in London. He decided to leave in October to pursue his dream of setting up his own company.  Tom is now the founder of Jangal, a company that sells living walls for offices and apartments.
We'd like to thank Tom Fernández for giving us his time to catch up – he is clearly starting an exciting adventure and we wish Tom all the best!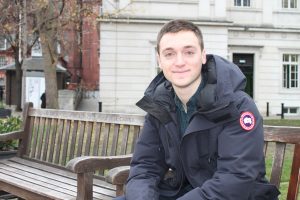 If you want to apply for a CRCC Asia internship, find our more here>>