Mumbai, inhabited by 21 million people, considers the local trains as its lifeline. There is almost no one who has lived in this city and not traveled via the local train. While most of Mumbai's inhabitants grumble and crib about the train services, everyone appreciates how impossible life would be without them.
Mumbai's local rail network is a part of history. The first railway ever to be built in Asia was in Mumbai along a 34-kilometer route way back in 1853 by the British. Today, the total length of the rail lines that form the local network adds up to over 400-kilometers with tracks running north-south and east-west through the ever-expanding suburbs of the city.  Mumbai's local rail network is one of the largest and busiest commuter train system in the world, operating over 2300 train services every single day for over 7.5 million people commuting daily. Welcoming the spirit of the city, the rail network is accessible to all.  Commuters can travel distances of over 70-kilometers for around 30 INR which is less than half a dollar, placing it among the cheapest commutes in the world. These local trains rarely stop functioning and do not get much rest as they operate throughout the day and fall silent for only one and a half hour in the middle of the night. Despite the colossal scale of operations, the railways manage to deliver excellent connectivity with intervals no more than 5 minutes between departures and arrivals.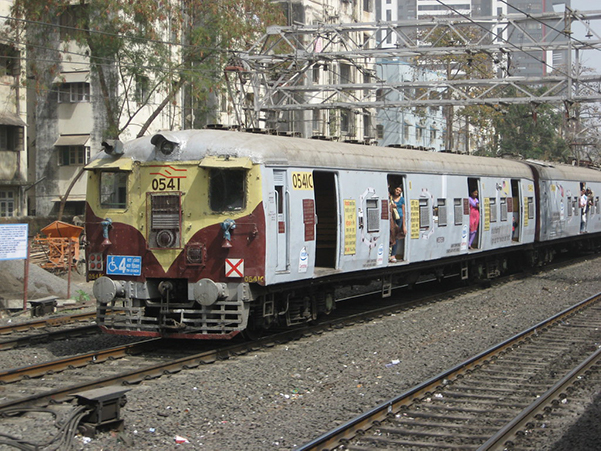 For a first time commuter, the crowd at the train station may feel intimidating, the experience of getting in and out of the train may feel overwhelming, but once you are a regular on a particular time bound train, there's nothing to it. It's hard not to become friends with other regular commuters and celebrate festivals or other important occasions, be it a birthday or a promotion, in whatever small way possible with familiar faces that you travel with everyday. If you are working late and subsequently didn't have time for grocery shopping, then there are times when the shopping comes to you in the train. Vendors sell fruits, vegetables, snacks, books, trinkets, cosmetics, and even clothes in the train. You shouldn't be surprised to see women cutting vegetables or groups singing devotional songs while travelling home. To most outsiders, Mumbai is best defined not by its population or skyscrapers or malls, but by its local trains and its food delivery service run by Dabbawalas, who practically depend on the city's local trains to get to their various destinations to deliver food on time. (Who are these Dabbawalas and what's this food delivery service? Now that's a story for another time!)
For those residing in neighborhoods close to the railway tracks, listening to the daily clatter of trains has become their way of life. It feels like Mumbai's heartbeat. Experiencing the trains in Mumbai is undoubtedly something to add to your bucket-list.
Interested in living and working in Mumbai? For a limited time only we're offering a $500 USD discount on all Mumbai internships. Start your decade with this unforgettable experience!