If you're hoping to apply for your dream internship or job soon, you'll want to ensure your resume/CV is up to date and well-polished! After all, your application and resume/CV is often your first impression with a company, so you want to make sure you leave a strong first impression!
There are many pieces of insider advice that can help you in building an excellent resume/CV. If you're just creating your resume/CV for the first time, we understand this can be very overwhelming. What information should you include in your resume/CV and what should you omit? What length should the document be and what font should be used?
Below, we've included our top 8 resume/CV tips to help you land your dream job or internship!
Ensure proper grammar
Proper grammar on your resume/CV is absolutely essential. It makes you look professional, intelligent, and shows good attention to detail. We've all had situations where we've submitted something and noticed a grammar mistake, so don't let this happen to your resume/CV!
How can you do this? Checking for proper spelling, punctuation, capitalizing proper nouns, and making sure sentences sound correct are all things to remember. If you're not a grammar whiz, there are many great (free) applications which can help review your document, such as Grammarly and the "Check Spelling" function on Microsoft Word or Google Docs. 
Use proper verb tense
This one is pretty simple, and it's very important to remember this when you're updating your resume/CV periodically. 
For any job or position that you are currently working or involved with, you should use present tense verbs. Manage, organize, deliver, oversee, execute, create, collaborate are all examples of strong action verbs in the present tense. 
If you're no longer working a job or position, you should describe that using past tense verbs. This is because you're no longer in that position, so you're not 'managing' or 'organizing' anything in that job any more. Rather, you managed, organized, delivered, oversaw, etc.
Use the same font throughout
This is something that can really help improve the overall aesthetic of your resume/CV, which should all in all look clean, neat, and well-organized. Choose a font that is standard and not too flashy – Arial, Times New Roman, Calibri, and Sans Serif are good examples. 
When you decide on a font, you should use only this font throughout your entire resume/CV. You can bold, italicize, or enlarge the font when it's used for section headers if you want these to stand out. Just ensure you're following the "one font" rule!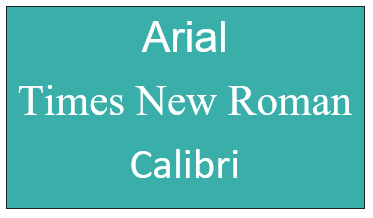 Use a template and make it your own
If you're just starting a resume/CV, we absolutely recommend finding a template you like instead of starting from scratch. There are literally millions of unique resume/CV templates all over the internet which you can search for and replicate. 
If you're using a program like Microsoft Word, you can normally select from a list of already-created resume/CV templates. You can also download one from the internet and upload it to start editing your own resume/CV!
When it comes to templates, it's ok to change yours from time to time if you feel you want a change of aesthetics!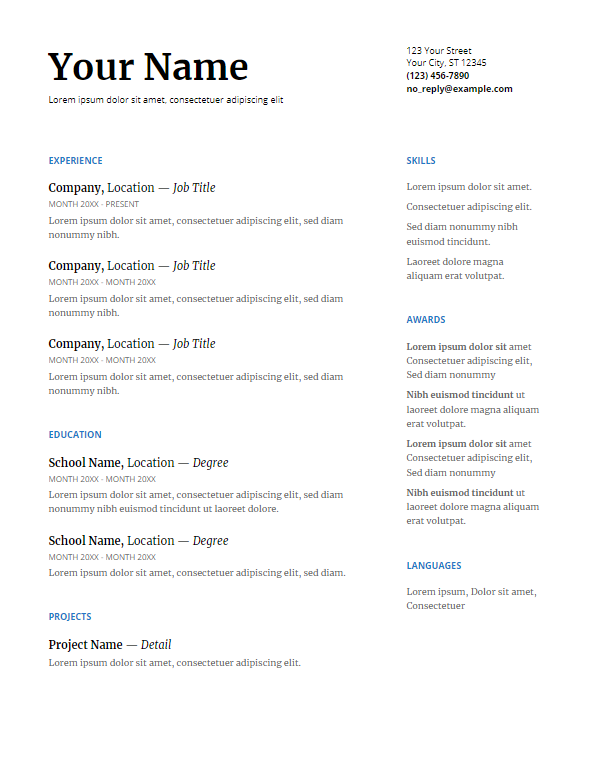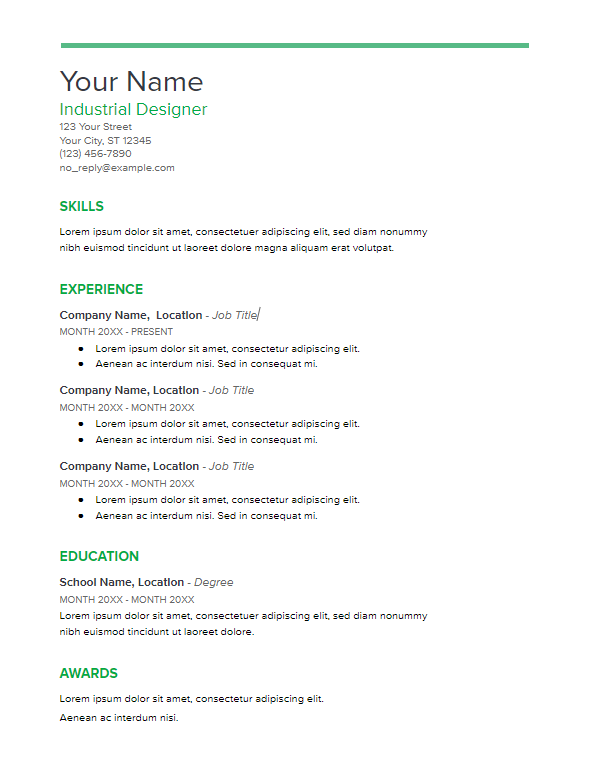 Avoid flashy colors & designs (unless you're design-focused)
Again, this has to do with aesthetics and helping your resume/CV look well-organized. Unless you are applying for a job in the design field, it's usually not recommended to use a wide variety of colors, themes, and designs on your resume/CV. 
While in graphic design this can actually help to show off your creativity, in most other fields an over-stimulating resume/CV can distract from the actual contents of the document. The last thing you'd want to happen is a recruiter throws your application right out because they cannot locate certain information on your complicated resume/CV.
Tailor your resume/CV to your industry
This is very important to consider when you're applying to a job. Your resume/CV should be tailored to the specific industry that the job is in. For example, if you're applying to a finance position, you'll want to list all the relevant job experience, education, volunteering, extra-curricular activities, and leadership positions that may relate to finance.
In a similar fashion, think about this when it comes to deciding what experience you can omit from your resume/CV. In many countries like the United States, a resume should be limited to one page. If you're trying to bring your document down to one page, consider what you can eliminate that doesn't relate to the industry you're going for.
Research your country's standards
As stated in the previous paragraph, some countries like the United States usually follow a 1-page rule for resumes. In other countries, two or even three pages can be common. You'll want to know what is commonplace for your country in terms of resume/CV length. 
Similarly, what aspects of your life need to be included in the document? The more common ones are job experience, education, certifications, and skills. In some places, you are also encouraged to list things like driver's license number, marital status, languages, phone number, address, hobbies, and even a photo of yourself!
Be sure to research your country's standards for what information to include, and omit, on your resume/CV!
Add in keywords
Each industry has certain focus areas, or keywords, that are commonly used when describing certain jobs and positions. For example, if you're applying for a job in marketing, it's likely that the company is looking for someone with experience in areas like content development, graphic design, SEO, branding, strategy, etc. These are examples of key terms, which you should try and include somewhere in your resume/CV. 
Keywords are very valuable for helping your resume/CV stand out and catch the attention of ATS Software. Applicant Tracking Systems (ATS) are software that many companies use to review resumes/CVs for proper keywords and terms related to the job description they've posted.
Keywords are great for boosting your resume/CV, and they can also greatly enhance your professional profile on sites like LinkedIn!
Conclusion
When applying for a job, you want to submit a resume/CV that you can be proud of. This document should essentially be a summary of your entire life, and the experience, skills, and certifications that will make you the best candidate for the job you're going for. 
In the end, it's up to YOU to decide how you want to organize all this necessary information into a resume/CV. There are many excellent opportunities with CRCC Asia to gain work experience for students and build your professional portfolio. As you continue to gain experiences and grow as a professional, your resume/CV will grow with you!