CRCC Asia has received extensive media coverage throughout our company history, from key media outlets including the BBC and national newspapers. Choose from one of the external links below to hear more.
Sky News
'Asia Placements'
CRCC Asia CEO and Co-founder Daniel Nivern appeared on Sky News with Kirsten Holtby, who recently interned abroad at a law firm in Beijing.
Daniel discussed the rising demand for internships in Asia as students look beyond Europe to further their professional experience.
CCTV
'Young Brits Look to the Asia Market'
China's national news network, CCTV, interviewed CRCC Asia staff about why more and more young professionals are seeking an internship in Asia.
"Employers are now demanding that their employees have a global reach and a more international perspective," Lucy,  CRCC Asia Program Alumnus
CRCC Asia are also the proud recipient of awards including the 2010 Cathay Pacific China Business Award and a prize at the 2012 British Business Awards.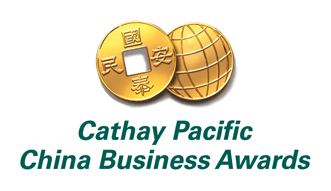 Cathay Pacific's New Horizons Award
CRCC Asia is proud to have won the Cathay Pacific New Horizons Award 2010. The award recognises a single project or initiative that displays compelling evidence of dedication to China through business innovation, research projects, or examples of environmental or corporate social responsibility activity.
CRCC Asia has worked hard over the past 5 years to bring China and the West closer together through building business and building relations. The consulting work of the senior staff has helped businesses to thrive in the Chinese markets, and the internships and courses build mutual understanding and relationship with China.
The judges felt that CRCC Asia's Internship Program not only fostered business links between the UK, the US and China, but also helped to improve cross-cultural understanding between the West and the Far East.

Cathay Pacific's New Horizons Award
CRCC Asia was delighted to be a winner of the annual British Business Awards 2012 under the category of Entrepreneur of the Year. The awards were sponsored by multinational firms such as BP and Costa Coffee with involvement from the British Council and UK Trade and Investment.
CRCC Asia pioneered the establishment of work experience programs for international students and graduates in China, and continues to run the leading and biggest internship program in China, and has since expanded throughout Asia and the UK. Founded by two young graduates, Daniel Nivern and Edward Holroyd Pearce, with minimal funds the company has grown into a multi-national company.
"The nomination is an inspiration to all of our teams to continue building innovative programs that educate young professionals around the world about China and help to foster relations between Chinese youth and their international counterparts," says Nivern.